It has been a long time since I rock and rolled...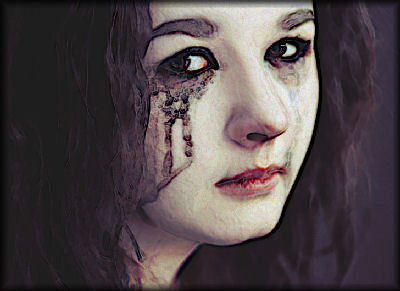 Music from an open window down the street.
She emerges from the dark house with disheveled hair. her cherry kiss lip gloss smeared onto her cheek, avoiding her mouth as if in the midst of an elaborate escape plan never completed. refuses to be lapped up by the soft pink monster resting at the bottom of the dark cave behind the teeth.
The monster who lies bleeding from tiny puncture wounds on its slippery, venous underbelly.
rivulets of black liquid drip down her face and stain her barely-there virgin-white baby tee. She doesn't realize it but the tears are running from her. their escape plan, considerably less complicated than that of the lip lacquer, succeeds.
Her underwear is still clutched tightly in her shaking hand as she walks disjointedly down the dimly-lit sidewalk. She cannot grasp what has happened, so the blame is taken out on her soiled undergarments crumpled within her balled fist. She always preferred the tangible over its opposite, anyway.
Why did he do this to her? did he not love her? all these questions spill from her abused mind in unison with the tears from her eyes. liquid, black, confusion.
Her yellow and white thong sandals slap softly on the cracked cement as she pads slowly along. Why, why, why, slap, no, no, no, slap! She reaches up to wipe away the black lines of salty disillusionment with her free hand. Black spread everywhere like a plague. The plague that seizes her heart in its sharp, emaciated talons and squeezes tightly.
She sniffs to clear her button nose and sighs to clear her mind. both operations fail. Her only accomplishment is the involuntary blanching of her knuckles as her panties are squeezed tighter and tighter, pressed into the palm of her hand until they disappear.
Suddenly she stops. the wind washes over her small body and ruffles her sheer pink skirt, a newborn flower swaying in the spring breeze. She lifts her aching head as if catching the scent of her impending doom. no, not her doom. her salvation. my cologne.
She turns her baby-doll face in my direction and fixes her eyes on my silhouetted figure beneath the street lamp.
I smile.
She does not see but she feels.
She dips down from the curb and makes her way into the street, toward me.
She is mine. I take her into my arms when she is near enough.
I have her completely.
Mine, soft brown curls.
Mine, deep almond eyes.
Mine, smeared cherry lipstick.
Mine, honey tanned skin, soft as a rose petal and smelling just as sweet.
Mine, innocent blood.
Mine, corpse in my arms...
it`s been a long lonely time.
The song ends... time to move on.
_________________
[EVERY NOW AND THEN, I demand to be treated like the supernatural hero that I am.]
Dear god, man. I get the strange notion this is very well versed, or you are writing this from another painful life experience?
Respected Member





Posts

: 77


Join date

: 2014-12-15


Location

: London, England.



Thank you for noticing, Victor.
_________________
[EVERY NOW AND THEN, I demand to be treated like the supernatural hero that I am.]
What in God's name is wrong with me?
I kill and feel ecstasy, then terrible sadness and remorse.
It is like I have two entirely different personalities: the killer who takes pleasure in the death, and then the innocent little child, who after the killing is done feels terrible and fearful and sorry.
I'm sure, Louis, you can relate perfectly. How could I have mocked you so? I am such a hypocrite.
As I held her in my arms, weeping that something so horrible could be so beautiful and feel so blissful...
Two words: I'm confused. I'm not who I ever was, before. I am the Vampire Lestat. Well who is that, anyway? Would somebody please tell me? I'm an excellent actor, I'm sure I could manage the part!
I remember how things used to be. They were never simple, no, of course not, never with me, the Impossible One, yet they were easily understood by me. The impossible is done by the Impossible. heh. Those of you who read about me all the way through (to Memnoch) know that some drastic changes have taken place in your's truly. Changes that even I cannot control and it terrifies me. It is so odd to think back to the time when I was a young mortal boy living miserably in the Auvergne in my father's decaying castle, sleeping with the prettiest village girls and killing wolves, dreaming of something more. Something better. (I got something more, alright.) I am definitely what you would call a dynamic character; constantly in motion, constantly shifting. Sometimes, especially now it seems to me that the man I was, then and the monster I am now are two completely different beings. And I suppose in a sense that is correct. But I have and always have been Lestat, never-mind the vampire, just Lestat. When I was born to darkness I had all the same emotions, personality traits as I had as a mortal boy. Perhaps they were brought out, then, amplified, but that is only to be expected when one goes through such a life-altering (in some cases, life-ending) experience such as that.
Those of you who have read my random ponderings (which this, my journal, has replaced) have noticed that I have been reminiscing an awful lot. Reflecting on the past rather than current events. I mean I've been thinking way way way back to things I'd not thought of before my awakening from my paralysis, one could say, in ninety seven. I've really not been totally myself since then. It took me so long to recover, I was ashamed at myself. But you see, for all those years if you looked upon my body, you weren't looking upon me. It was as if I was not resident, at all. Like Akasha and Enkil on their thrones in the temple, staring off into space, their hard, white bodies never moving. So I laid on that church floor, never moving. I couldn't. It wasn't my decision, I just passed into another dimension, it seemed. I was somewhat aware of the goings-on around me but I didn't care, I couldn't. I was an empty shell.
When I came out of that I wouldn't let anyone touch me for months. I really don't know why, even now. I can't explain nor justify my actions. What happened, happened.
I think that really hurt David. Louis, too. I didn't mean to hurt them, I just couldn't be fooled with. I was awake but still waking. From a nightmare.
My memory was totally destroyed for the longest time. It was as if I'd been hit on the head too hard and was suffering from a sort of amnesia. Who are you? Why are you telling me to drink from you? What am I? Where are we? What is your name? Instinct reigned, in the end and I stopped asking questions and just fed the hunger. No creature enjoys great amounts of pain, so I did what I could and allowed others to do what they could to help me eliminate it. But it never was completely eliminated. It is still there.
Everyone was very patient with me. I couldn't understand how they had come to love me so much. I am such a pain in the ass, really, to put it simply.
I'm still feeling the aftershock of it all and am not completely my old self, and I'm not certain if I ever will be, again. Oh well. Parts of us always die. We just have to bury that part and move on, do the best we can, right? But I'm still mourning for the death of me, whoever that is. It is a pity I could not have known him better.
I'm speaking like a mortal, aren't I? Well, being a vampire hasn't changed my views on things, entirely.
God knows why I've been so depressed and down-trod as of late. I'm having severe internal conflicts every single day and its exhausting. Perhaps I should consult a psychiatrist ::chuckles:: I'm very tempted to just climb into my coffin, which I've not touched in about a year (I prefer to sleep in a bed. With the curtains drawn it is no problem for me...unless of course one of them decides to break ::scowls::...) and never get back out again. Or if I did get back out, would I awake only to find the world around me has been destroyed on account of all this hatred and hostility? Chaos in the Savage Garden. I assure you I could sleep through Armageddon. It would be no problem for me, at all.
Then I would be alone. Completely and utterly alone. Nothing would have really changed much then, would it have?
Ma cheres, Louis, David, Jesse, Daniel, Armand, Marius, Gabrielle, Claudette, I thank all of you. I appreciate your concern but it just tears me apart...there is nothing you can do.
Give up on me. Please.
~~~~~
On a somewhat lighter note... I nearly got sideswiped, last night by this punk kid in a red Camero. (the baby's in my garage. Ooh it purrs like a kitten. yet i feel bad for killing the poor bastard and taking it! this is driving me beyond the normal level of insanity that seems now to be my comfort level.) And another thing; streetlights. Who established that green would mean go, yellow would mean slow down (or, for some of us it means hurry up and go before the damned thing turns red) and red means stop? Its a marvel.
In the 1700's...back in the day, if you will, who would have ever even fathomed what our world has become? Bustling metropolises with lights of all different colors and sizes, signaling to us in our shiny automobiles as we talk gaily on our cellular phones with the radio blasting the latest tunes. Its amazing, really. Just another thing that I notice that every other being takes for granted. The eyes of a statue will make me weep and the pattern in a carpet will make me laugh my ass off, I just don't understand, but I've always been that way, now haven't I?
Last edited by Lestat on Tue Jan 20, 2015 3:24 am; edited 2 times in total
_________________
[EVERY NOW AND THEN, I demand to be treated like the supernatural hero that I am.]
Dear, I can't imagine the level of confusion you are going through, as it is not a level I have any experience with, but... I hope that I am correct in saying that we are all here for you, and you are loved. The good, and the bad. I'm sure someone, somewhere, will think me overly sappy for saying so, but it doesn't make it any the less true.

_________________




Posts

: 308


Join date

: 2014-08-16


Age

: 29



I completely agree with Erin. We take the good and the bad from you and are still here.
_________________

Respected Member





Posts

: 175


Join date

: 2014-11-16


Age

: 33


Location

: Denver



Lestat wrote:I appreciate your concern but it just tears me apart...there is nothing you can do.
Give up on me. Please.
Lestat, i don`t know what brought this on, but "give up on you"?
NEVER!!!
you know you can talk to me anytime night or day, don`t you?
Respected Member





Posts

: 77


Join date

: 2014-12-15


Location

: London, England.



Victor wrote:

Lestat wrote:I appreciate your concern but it just tears me apart...there is nothing you can do.
Give up on me. Please.

Lestat, i don`t know what brought this on, but "give up on you"?

NEVER!!!


you know you can talk to me anytime night or day, don`t you?
Victor, Thank you for that. However I believe its a phase I am going through, creating this place, brings reminders and along with them ~ Memories.
As you can imagine, I have a myriad of memories stored in this old head of mine. Oh, I could tell you stories that would make your hair curl.
You did not have to call me, but, you are welcome here anytime you wish.
Oh, by the way; How is Claire?
_________________
[EVERY NOW AND THEN, I demand to be treated like the supernatural hero that I am.]

---
Permissions in this forum:
You
cannot
reply to topics in this forum