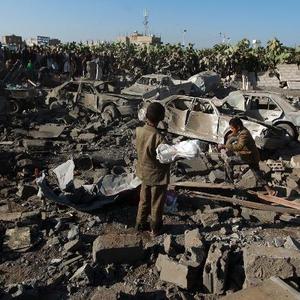 In the Middle East,
The desert land
Of Djinnis,
And oasis strands:
A child straps a bomb
To his chest.
He's not long graduated
From his mother's breast.
He sees a battalion of Marines
Coming his way.
He quickly drops his shirt
And begins to pray.
He prays for glory
As he puts on a starving face.
The Marines try to help,
But they're blown into space.
One child dead,
One million children killed
In this senseless jihad
That their god "willed".
One Marine dead
One million Marines killed
In this senseless war
That the "prophet" willed.
Why must mankind
Kill each other?
If nothing else,
Leave the children to their mothers.
May their souls find peace,
May terrorism find an end.
May war find a stop.
Please Odhinn, to your children , do tend.
In the Middle East,
The desert land
Of Djinnis
And deadly hands.
I see pain on both sides,
People dying,
People praying,
Supporters  unrelenting,
Fundamentalists growing,
claims repeated,
entitlements reiterated.
Consider.
Who's winning?
What is the point if your children won't live to prosper from the results you seek?
Inherent views will not be changed - so stop trying.
But there is an answer.
Love your children,
See the future through their eyes.
Peace is the only assurance of their survival.
It's really terrifying, Lestat... I don't dare even suppose what you had to pass through and which kind of surcomstances made you to create this poem... You're so true in every word that you've written, I'm absolutely agree with your thoughts - if it was real life experience (that you saw with your own eyes), I hope and wish you'll never return to it again... Middle East is the "ground of pain" (as somebody told), we can just pray for the day than peace will finally come to this cruel desert place...
P.S. Welcome back!!! You've been missed for so very much!!...
Yume, I thank you for your words.

Over the past few months, while I was there, I have come to realize... This "cruel desert place" is the new "Hell on Earth"

Oh let me assure you, I did witness these terrible things, with my own gray eyes and my own statement of the "Savage Garden" is now fully realized.!.

Oh, such a terrible topic. But, sadly part of the world we currently live in. I, too, wonder why people can't seem to change. This is a very meaningful piece.
_________________


MissBijou

Respected Member





Posts

: 175


Join date

: 2014-11-16


Age

: 34


Location

: Denver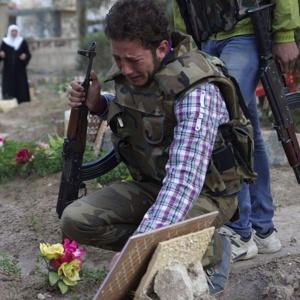 And the killing goes on: A Free Syrian Army fighter mourns at the grave of his father
killed by government shelling. Syria.
Usual weapons of land and air
are considered by us to be fair
chemical weapons are not so fine
when it comes to that, we draw the line
how they kill is a concern to us
OK to blow them up on a bus
but don't give chemicals a bad name
seems to me, dead is dead all the same
and at home, why does the FDA
send harmful chemicals our way
something I cant get into my brain
seems to me, dead is dead all the same
I realize it is a sad subject, but a story that must be told!

This is my last post in this section, it is meant as a insight into the events, I have seen with my own eyes recently.

I am the lucky one, I came home... For the people of Syria, this "Hell on Earth" IS their home!
So true Lestat, so very true.... I totally understand why there are so many Syrian students and scientists here (including some of my colleagues or ex-group-mates) who just want never return to their motherland... I can just hope that once their home will find peace and people won't be killed in the war or because of terrorism anymore...

---
Permissions in this forum:
You
cannot
reply to topics in this forum