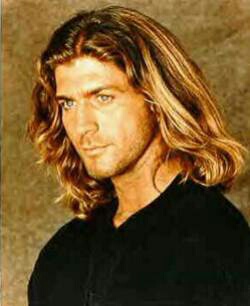 This man was my meal for tonight. He was very handsome. He didn't put up much of a fight but that could be because he was getting pleasured as I drank from his succulent neck.
He was rather delicious. He had a taste I can not describe. You should have tasted him and then you would have known why I can not describe how he truly tasted.
The taste of his blood upon my tongue was delictable. It wasn't very hard to convince him to come home with me. Once he got there I toyed with him until we both couldn't take it any longer. I ended both of our hungers. Mine for a night and his for eternity.
I wonder who will be my meal tomorrow night. You will just have to wait and see

Antheodora De Lioncourt




Posts

: 10


Join date

: 2018-03-30



Bonsoir, Antheodora.
I cannot go for more than a few hours without wanting human blood. Of course, I don't need it that often. And just how often I do need it, I don't know, because I've never put it to the test.
While you're young, you'll thirst unbearably, probably have to kill each night. By the time you're a thousand years old, you'll look and sound wise, even if you were a kid when you started, and you will drink and kill because you cannot resist it, whether you need it anymore or not.
If you live longer than that, and some do, who knows? You'll get tougher, whiter, ever more monstrous. (Marius) You'll know so much about suffering that you will go through rapid cycles of cruelty and kindness, insight and maniacal blindness. You'll probably go mad. Then you'll be sane again. Then you may forget who you are.
There must be more than those few words to describe; the torrent of memories and emotions that must have flowed from him, at the sudden moment he realized that you were going to take his life.
Describe for us, his heart rate at that exact moment.
Paint pictures with your words to explain this; "The taste of sweet and delectable"
Sweet like honey, sticky and thick?
Or, sweet like cane/beet sugar?
Perhaps, a fruit flavor, it all depends on the mortals diet, you realize!
I recently described a females scent, as a sweet as a boiled sugar candy with a flavor not dissimilar to that of a pear!  
*A`hem....*
:
clears his throat: and slices the page with one single finger nail..
.
Hmm
,
Wait a moment
, S'il vous plaît...  I seem to remember that face. (Your "
meal
fantasy for tonight")
Yes, I`m sure I know him...
Isn`t that, that handsome young actor who played his first role as a patrolman in Star Trek IV: The Voyage Home. He then received attention for his role as Jake Harrison in the soap opera One Life to Live, and went on to co-star in the popular drama Dr. Quinn, Medicine Woman as Michaela Quinn's love interest,
Byron Sully
.
That`s him...
Joe Lando
. I thought I recognized his face.
Taste good, did he?
Post script
Lestat wrote:*A`hem....* :clears his throat: and slices the page with one single finger nail...
§
That is the Very FIRST and the VERY LAST time, you will EVER see me "Role~Play"
§

Excusez moi s'il vous plait. J'ai un goût amer dans ma bouche.
I could not describe the looks of the man so I used a picture of someone we all know to better show what he looked like. It was not Joe Lando but a man that was similar in looks and build to him.


Antheodora De Lioncourt




Posts

: 10


Join date

: 2018-03-30



Handsome fellow.

Didn`t put up much of a fight?
Tell us... Did you capture any emotion, feelings, from him as he passed?
Did he whisper a humble thank you?

Must have wanted it really bad? The release...
Last edited by Lestat on Sun Apr 08, 2018 5:08 am; edited 2 times in total
The man was indeed handsome. As I said it was not the man in the picture. I was using the picture as an analogy as to what the man looked like.

No. He never said thank you. He couldn't he was in the throws of pleasure while he died. The last thing on his lips was my name as he slipped forever into eternity.

Antheodora De Lioncourt




Posts

: 10


Join date

: 2018-03-30



Hush, Lestat.
These words you have used, those questions you asked, have gone unanswered for a reason.

No mortal can know the answers, how can they perceive the intended meaning of what emotion you are desperately yearning to acquire from them? They cannot answer you Lestat, there is no common ground for the conversation to even begin. You must see, it is an unfortunate situation we have in the new age.

They know we exist, but all they have learned over their short years are regurgitated stories, second hand information from mere mortals that tell vampire stories.
Most of the stories started from the notions of a dying man with dreams of living for.. almost forever, as we do.

Marius De Romanus




Posts

: 14


Join date

: 2018-03-23





Similar topics
---
Permissions in this forum:
You
cannot
reply to topics in this forum